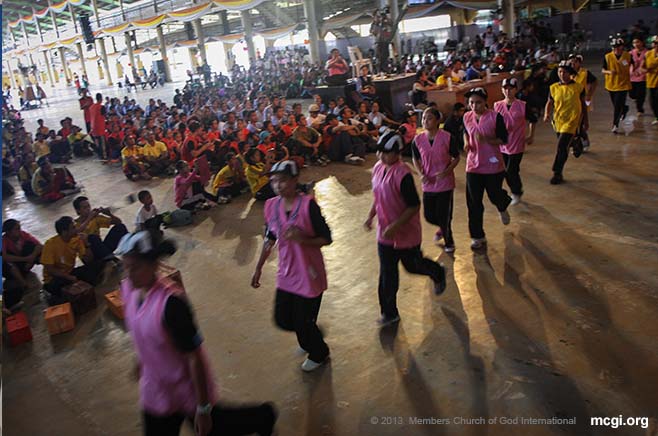 Aimed at inspiring youth support for global evangelization, the Bulacan Youth Convention gathered the youth members from one of the biggest Church of God International divisions in Luzon region at the ADD Convention Center in Apalit, Pampanga for two days.
"Put your faith first before all other things," Bro. Eli advised youths on the last day of the convention. "The most important thing for us is our connection with God because it is not only here on earth that we will live."
"After our life on earth, we will live in two directions. There are those who will go to eternal life, and there are those who will go to eternal shame, (Dan. 12:2)," Bro. Eli further explained via live video streaming after the consultation part of the event.
It was on the last day, May 21, 2013, of the event when the Church Leader gave time to hear out any problems the youth may have about their faith.
The annual convention included games and other activities to promote health and foster brotherly bonding. Its main goal is to help with the youth's spiritual needs and growth, however.
Bro. Soriano stressed one's worthiness in attaining life everlasting will be determined by his or her service to God. "While you are young, the Bible says to 'Remember thy Creator in the days of thy youth,' in Ecclesiastes 12:1," added the preacher.
Studying for Life
Bro. Eli also gave word on what courses can be useful in the global propagation of the Gospel: "Study languages, that you may be helpful in translations."
Recently, Members Church of God International (MCGI) started its The Old Path broadcast on Costa Rican television via Canal Nueve, where it airs in Spanish. Though the multi-award-winning program is carried by satellites across six continents of the globe, MCGI eyes on adding more television broadcasts in the Americas.
As MCGI broadcasts increase its global footprints however, so does the demand for Coordinating Centers where people can gather. The demand for Church Workers rises as well, a fact that is happening now in South America.
There are places wherein the preaching comes in the form of a compact disc (CD), which they play in their respective locales. While technology proves to be a helpful hand, the roles that a Church Worker plays in overseeing both brethren and guests in coordinating centers cannot be undermined.
To this, Bro. Eli appealed to the youth, "study technical courses that can be used in broadcast, and study being a Church worker. I am inviting you all and I know that you won't be sorry if you will be faithful in your duties."
(Written by Art Cruz)
(Photography by Kenji Hasegawa)