MCGI ARTICLE
In Remembrance of Brother Eli's Life and Works, MCGI to Hold 'The Legacy Continues' from April 4 to 10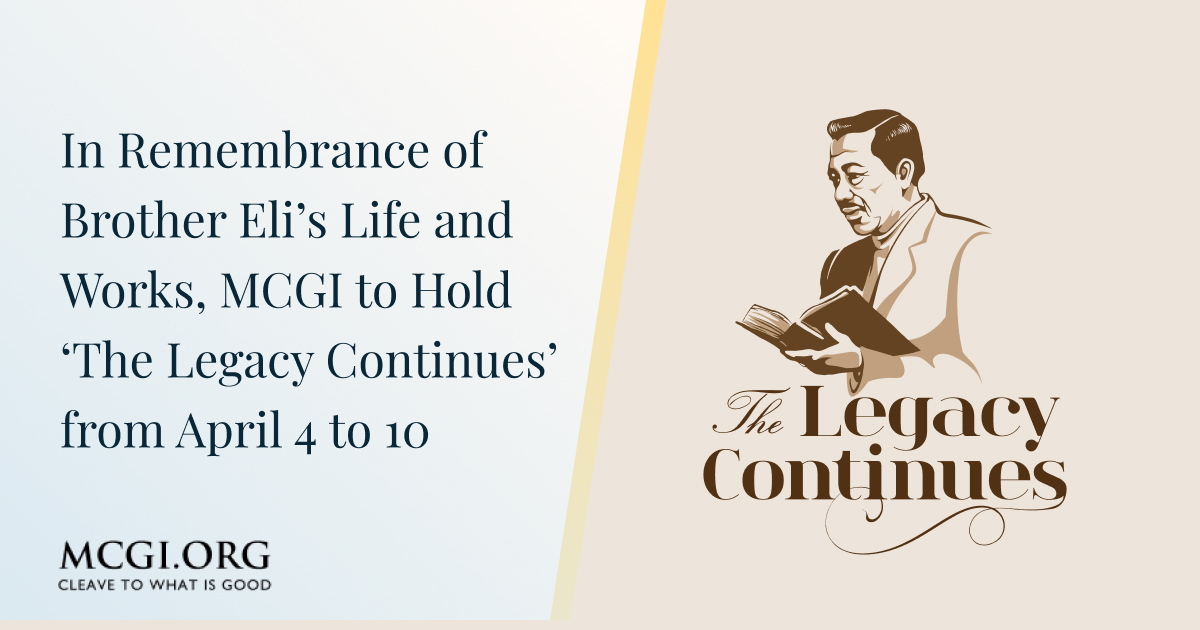 A life spent preaching and living God's words. This is the legacy that Brother Eli Soriano left behind when he passed away in February of this year. He was 73. Brother Eli was an award-winning evangelist and the servant to the Members Church of God International (MCGI).
To pay tribute to his life and works, MCGI will hold a special event fittingly called "The Legacy Continues" from April 4 to 10, 2021. It will coincide with the 57th year since he was baptized in the Church.
The week-long commemoration will include a global feeding program, the simultaneous opening of MCGI Free Store branches worldwide, a round-the-clock wish-granting, and a special episode of "Serbisyong Bayanihan" set for broadcast on April 7, 2021, at 4 p.m. PHT on UNTV (UHF Channel 37).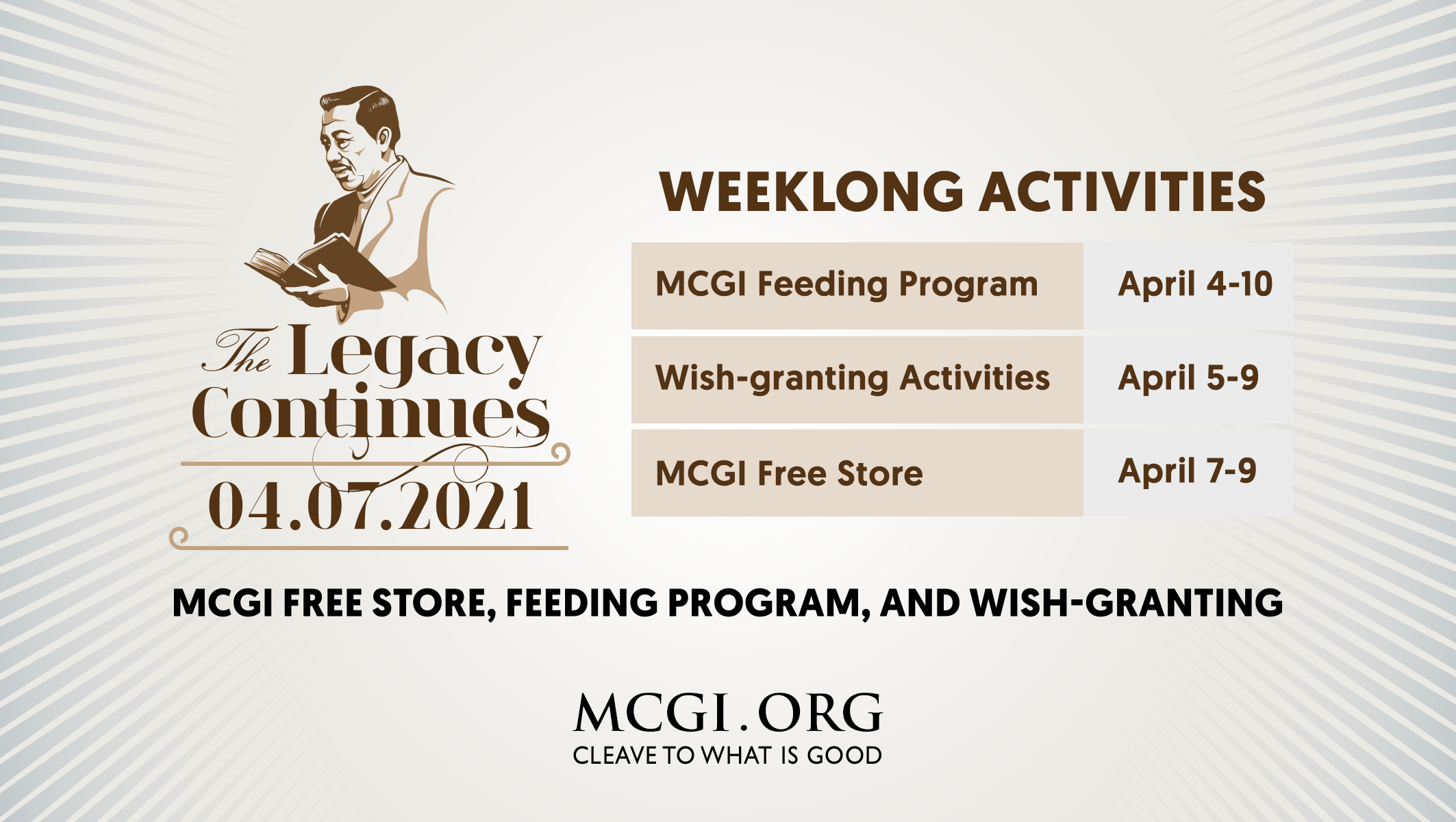 Global Feeding Program
"The Legacy Continues" will commence with a feeding program in different parts of the world. MCGI held a similar activity earlier on March 25, benefitting around 130,000 individuals. 
Some of the endeavor's recipients were the underprivileged people in Edmonton, Canada. Boyle Street Community Services, a non-profit organization dedicated to helping "individuals and families experiencing homelessness and poverty," expressed their gratitude for the meals they received for free from the Church members based in this city. 
"A massive thank you to Members Church of God International Edmonton (MCGI) for sponsoring today's meal of pan-baked lemon tuna filet with pineapple salsa on a bed of rice. This is the second meal [that the MCGI Edmonton] has sponsored for our community," the group shared on their Facebook page.
For the upcoming event, the feeding program will take place until April 10.
Free Store for Everyone
Starting April 7 at 9 a.m. PHT, nearly 700 MCGI Free Store locations worldwide will also be opened and will simultaneously be in operation for three days.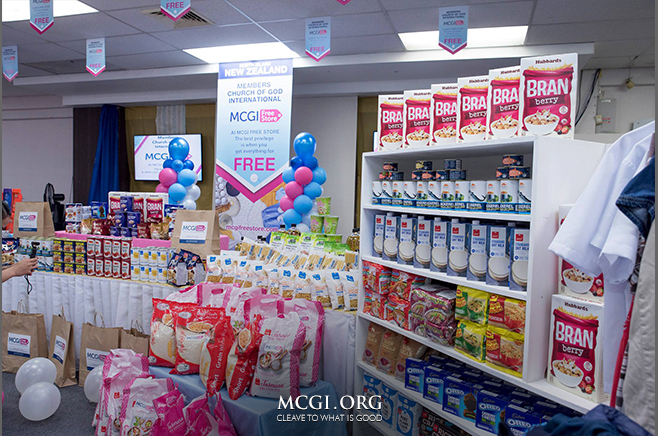 Everything for free. The MCGI Free Store provides goods to the underprivileged — free of charge. The commodities are all donations of the brethren. (Source: Photoville International | Win Fernandez)
Taking inspiration from the Gospel (Galatians 6:10, Titus 2:14, James 1:27), the project was conceptualized by Brother Eli in an effort to reach out to the needy. Through this endeavor, indigent individuals can get basic commodities such as grocery items, apparel, and household items for free — regardless of religious affiliation. 
During its initial unveiling to the public last March 14, the MCGI Free Store served more than 38,000 beneficiaries, with more than 1 million items given. The event strictly implemented health and safety protocols as it took place in the midst of the Covid-19 crisis. 
[READ: MCGI Free Store Now Officially Open with More than 670 Branches]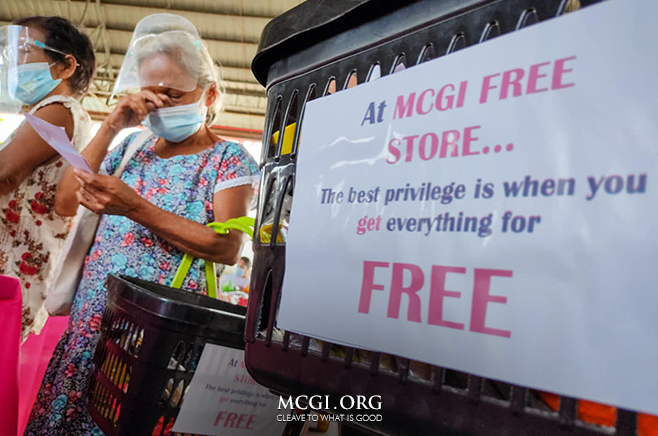 A beneficiary carries a basket of goods that she got for free at the MCGI Free Store Apalit branch in Pampanga, Philippines. (Source: Photoville International | Kenji Hasegawa)
"Thank you po sa opportunity and, of course, sa ating mga kasama sa MCGI. Talagang this is very noble at saka talagang very timely, very relevant and responsive, dahil 'yun nga, ang tulong na ito ay walang [pinipili]. We are here to share what God has given us (Thank you for the opportunity and, of course, to MCGI. This is very noble, timely, relevant, and responsive — because this project does not discriminate. We are here to share what God has given us)," Vicente Gregorio Tomas, the Department of Social Welfare and Development (DSWD) NCR regional director, remarked.
In the Philippines, the launch was held in coordination with the DSWD, the country's lead agency when it comes to implementing social protection and poverty alleviation programs. 
The said initiative also reached other parts of the globe, including the far-flung community of Jota in Mozambique. In the East African country, eight of 10 poor people live in rural areas. According to a UNTV report, Jota residents spend around Php485 ($10 as of writing) to travel to the city proper and buy their basic needs.
Rassula Joaquim, one of the program's recipients, said in Portuguese, "We appreciate the things you've done to us. We were not expecting such help. We are very happy with [the efforts of the members of] that Church."
 Learn more about how the MCGI Free Store works here.
Special 'Serbisyong Bayanihan' Episode, Round-the-Clock Wish-Granting
Throughout the week-long event, MCGI will further donate tablets and grant livelihood assistance among others to a total of 1,200 underprivileged beneficiaries coming from different countries.
Beneficiaries will be chosen through the Church's 24/7 Bible Exposition Livestream on YouTube and Facebook, which started on March 29, 2021. The broadcast platforms will include the Brother Eli Channel (BEC), BEC-Japanese, BEC-Cantonese, BEC-Chinese, Ang Dating Daan, The Old Path, O Caminho Antigo, and El Camino Antiguo. 
To join, aspiring recipients must tune in to any of the said channels and comment down their name, contact information, and their request. They can also fill out a short registration form that they can find as a pinned comment on the livestream videos. 
Every hour from April 5 to 9, MCGI will announce 10 recipients. 
Meanwhile, select beneficiaries will be featured on UNTV's public affairs program, Serbisyong Bayanihan during its April 7 episode.
The special episode will primarily highlight Brother Eli's life, his commitment to propagating God's words, and his undying spirit to live what he preaches. It will air at 4 p.m. PHT on UNTV (UHF Channel 37), with a live simulcast on UNTV and MCGI's Facebook pages.
Manifesting what he learned from the Bible, Brother Eli, together with Brother Daniel Razon, spearheaded various humanitarian projects. With God's help and in cooperation of the Church members worldwide, they mounted and maintained philanthropic efforts such as medical and legal missions, blood donation drives, scholarship programs, and the recently unveiled Covid-19 Health Facility. All of these are provided for free.
Speaking in one of the episodes of Serbisyong Bayanihan, Brother Daniel emphasized that the initiatives that MCGI sustains are part of its campaign to uphold the biblical teachings that Brother Eli preached.
"'Yan po ay sa aming pagtugon sa amin pong natutunan na gumawa ng mabuti sa lahat. Anuman po ang sabihin ng kahit na sino, kami po ay magpapatuloy sa tulong at awa ng Panginoon (This is our response to what we learned about doing good unto all. Whatever others may say, we will carry on with God's help and mercy)," he enthused. 
"The Legacy Continues" will take place from April 4 to 10, commencing with a worldwide feeding program. Round-the-clock wish-granting will also be made throughout the week-long affair. 
A special tribute will be aired on UNTV on April 7 at 4 p.m. PHT (with a live simulcast on www.facebook.com/UNTVNewsRescue and www.facebook.com/MCGI.org). MCGI Free Store branches will further be in operation from April 7 to 9. For inquiries about the MCGI Free Store, reach us at 0977-674-0328 or 0968-658-2190.
Strict health and safety protocols will be implemented and observed throughout the event.