MCGI ARTICLE
The Platters Share a Night of Classic 50s Music with Bro. Eli
Bro. Eli Soriano, together with the famed 1950s music ensemble, The World Famous Platters, turned the ADD Convention Center into a music hall filled with classic ballads and medleys for just one night.

Dubbed "Remember When," the benefit concert started at around 6 p.m. on March 31 this year, a day after MCGI's three-day Thanksgiving of the Body. Bro. Eli Soriano and Bro. Daniel Razon made sure that the night's concert would be marked with memorable performances from MCGI's homegrown talents and local artists.
MCGI's own pool of theater dance troupes opened the concert with their creative dance interpretations. Performers who graced the evening's first part included Frank Packing, ASOP TV song interpreter; Lilibeth Garcia, Karaoke World Championships runner up; Hammilan, band vocalist, and; MCGI's Music Ministry.
Filipino singer-composer Rey Valera was another highlight of the evening. Valera sang some of his best-loved songs like "Kahit Maputi na ang Buhok Ko" before smoothly transitioning to the night's special performances, including the duet between The Platters and Bro. Eli.
The Platters serenaded tens of thousands crowds at the convention hall and other MCGI coordinating centers all over the world via live video streaming with songs they popularized between the late '50s and early '60s. These performances included "Only You," "Twilight Time," "Remember When," "Stand by Me," "The Great Pretender," and other Motown medleys. In between songs, The Platters shared trivia and fun facts about their group's more than 50-year career-spanning accomplishments.
A special duet of "Smoke Gets In Your Eyes" by The Platters and Bro. Eli proved to be one of the crowd's favorite parts of the night. "It's the first time we've done anything like that, but it was really fun," remarked Jerrad Tilley of the technology-aided performance. To cap off their gig, they thanked the audience and greeted Bro. Eli who celebrated his baptism anniversary on April 7.
After the last song of The Platters, Bro. Daniel took to the stage and offered some covers of songs and teased on a new song, which is part of a new music album he is launching this year. MCGI's Vice Presiding Minister also performed "Yesterday," "Together Again," and "What Kind of Fool Am I." After a few songs, Bro. Daniel led the crowds in singing the Church birthday song to Bro. Eli.
When it was Bro. Eli's turn, the Presiding Minister to MCGI's rendition of "And I Love You So" and "A Certain Smile" further heightened the entertainment and celebration. Bro. Eli afterwards thanked everyone who made the concert possible and shared words of wisdom from the Bible to the audience.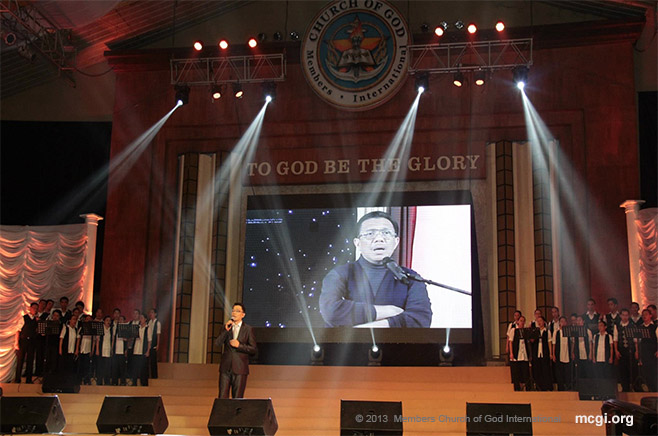 The song, "Walk with Faith in your Heart," was performed by Bro. Eli as attendees left the convention hall. While majority have left already, Bro. Eli continued singing until the wee hours of the night (Philippine time) for those who were still monitoring the concert through live streaming and satellite facilities.
The "Remember When" concert was aimed at raising funds for a new convention center dedicated to families of MCGI and Jesus Christ's One Thousand-Year Reign on earth.
The concert was a week shy of Bro. Eli's 49th year in service to God and the people on April 7. In all those years he served, Bro. Eli only missed one Church service due to severe illness.
(Written by Apple D. Arco)
(Photography by Rovic Balunsay)