Logo
"Biblically speaking, there's no such thing as logo." – Bro. Eli Soriano
In the Philippines, the Securities and Exchange Commission (SEC) requires an official seal for church documents; every paper forwarded to their office must have a dry seal. This obliged Bro. Eli Soriano to create a dry seal to identify the Church in relation to the government of the Philippines. Although "logo" is not in the Bible, everything that is found in the MCGI dry seal or logo is biblical. The open book represents the Bible.
MCGI Logo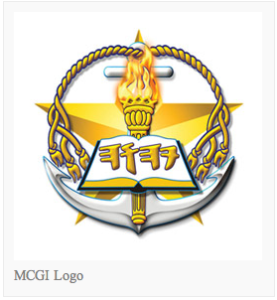 The torch represents the lamp in Proverbs 6:23: "For the commandment is a lamp; and the law is light; and reproofs of instruction are the way of life:" This is also reflected in King David's words in Psalms 119:105: "Thy word is a lamp unto my feet, and a light unto my path."
The cords represent a binding tie, which is the love that exists among the members. In Colossians 3:14, the Bible says, "And above all these things put on charity, which is the bond of perfectness."
The anchor represents the hope that the members have in the Church of God. Hebrews 6:19 says, "Which hope we have as an anchor of the soul, both sure and steadfast, and which entereth into that within the veil;"
The big star, which dominates everything in the logo, represents Christ. Revelation 22:16 says, "I Jesus have sent mine angel to testify unto you these things in the churches. I am the root and the offspring of David, and the bright and morning star."
The four Hebrew characters on the open book, referred as Tetragrammaton, read as Yod, He, Vau, He, and translated in English as YHWH, is the original name of God in Hebrew, written in the Ten Commandments. It is the name of God that the Lord Jesus Christ and the Members Church of God International respects. It is a vital part of the Christian faith.
Date Updated: July 12, 2010