MCGI ARTICLE
Now Playing: Unheard Biblical Truths in Bro. Eli Soriano's New Podcast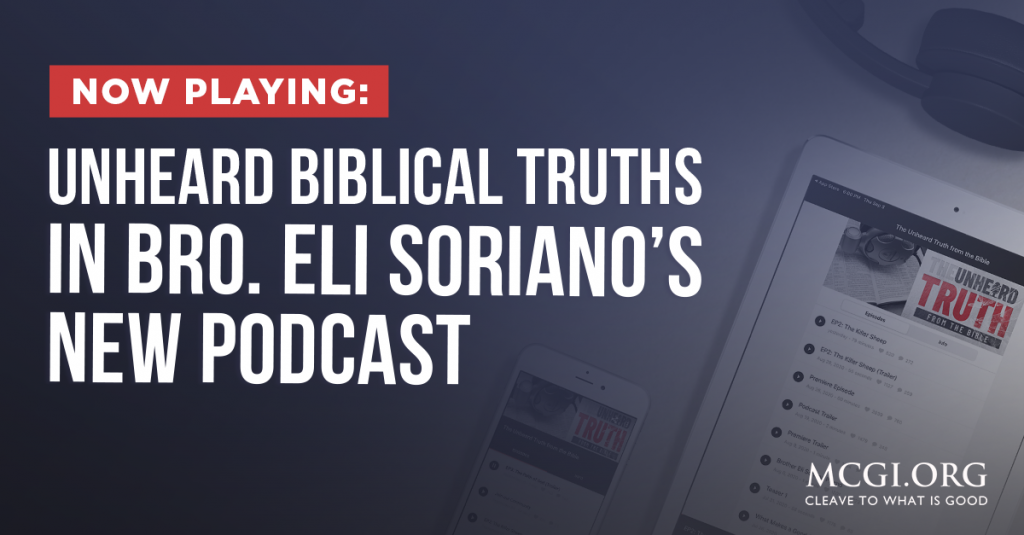 "God wants us to learn exactly the truth that is in the Scriptures." This is a statement that the Members Church of God International (MCGI) Overall Servant Bro. Eli Soriano often emphasizes when talking about propagating biblical wisdom to all.
To further share the Gospel to as many people as possible, Bro. Eli, together with up-and-coming podcaster Uly Villamin, launched a podcast series called "The Unheard Truth from the Bible" on August 23, 2020 via its website. 
The podcast series is also available on its mobile app of the same name, which reached the number 1 and number 4 spots in the Apple Podcasts Charts in the Philippines and Canada, respectively. The app is free on both the Apple's App Store and the Google Play Store. 
The brand-new religious podcast promises to be unlike the typical sermon-type podcasts found in podcast streaming services today and will be taking after MCGI's Bible Exposition format. It aims to satisfy biblical doubts and satiate questions of faith sent via chat or phoned in live by its audience. 
From radio, to television, and now, social media, Bro. Eli has been holding live question-and-answer Bible Exposition events and Bible Studies for almost four decades now.
With the help of God, the no-nonsense televangelist continuously finds new platforms to spread God's truth to the masses even more. And the podcast series aims to bring biblical truths through an online audio show that listeners can tune in live or download past episodes and play on demand.
"Every person is entitled to God's salvation. But they are being deprived of this chance by pastors, teachers, and preachers of religions."
"The very will of God is that all men must be saved (1 Tim. 2:4), but they are deprived of their salvation because they are deprived of the truth. They were taught lies, misconceptions, delusions — this is true in almost all religious groups in our time," explains Bro. Eli during the series' debut episode. 
Bro. Eli also shared that the act of believing requires prudence, citing 1 John 4:1.
Beloved, believe not every spirit, but try the spirits whether they are of God: because many false prophets are gone out into the world.
(1 John 4:1, KJV)