MCGI Concludes 4th Quarter Thanksgiving of God's People of 2016 in Awe: A Revelation Like No Other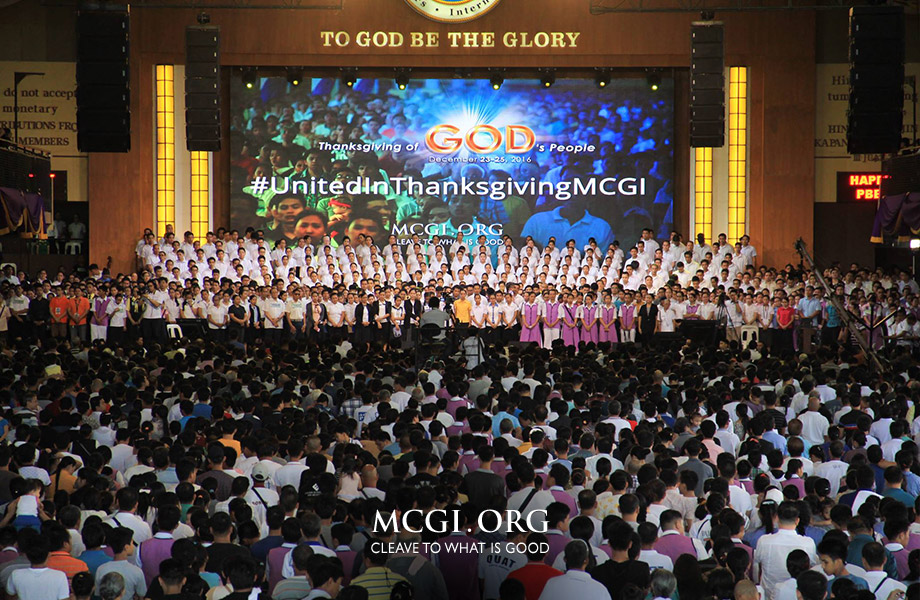 Words cannot express God's unfathomable blessings and gifts in Members Church of God International's (MCGI) three-day 4th Quarter Thanksgiving of God's People (TGP).
This is the general expression of the entire MCGI congregation and some visitors who attended the gathering held last December 23-25 in ADD Convention Center in Apalit, Pampanga, Philippines and about 2,000 remote points all over the globe through satellite technology.
The Sacrifice of Thanksgiving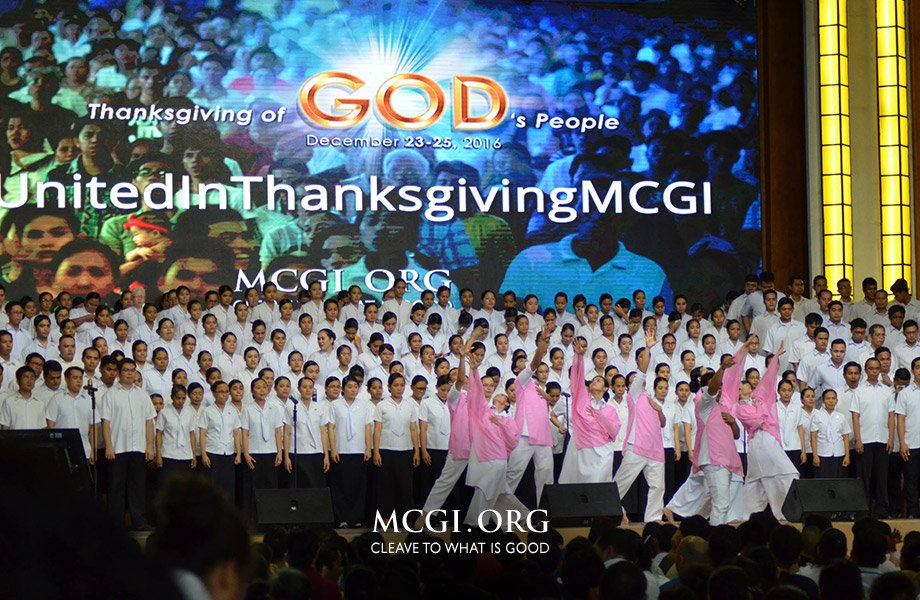 Giving thanks to God is a Christian doctrine preached by our Lord Jesus Christ and his apostles. The Apostle Paul taught the early Christians to be thankful to God continually (Hebrews 13:15, KJV). In line with Paul's teachings, what started as a yearly one-day thanksgiving of God's people in the early years of the Church has turned to a quarterly three-day major event.
In the 2016 4th Quarter TGP held brethren from different chapters all over the world, led by Bro Eliseo Soriano, the Overall Servant to MCGI, and Bro Daniel Razon, the Assistant Overall Servant to the MCGI, offered their songs of praise to God Almighty and our Lord Jesus Christ.
Aside from God's continual guidance and care to His entire people, MCGI was grateful for nearly 20,000 newly baptized brethren for the entire year 2016, and the recently held 36th anniversary of Ang Dating Daan (The Old Path) last December 9 this year.
Unfathomable wisdom of God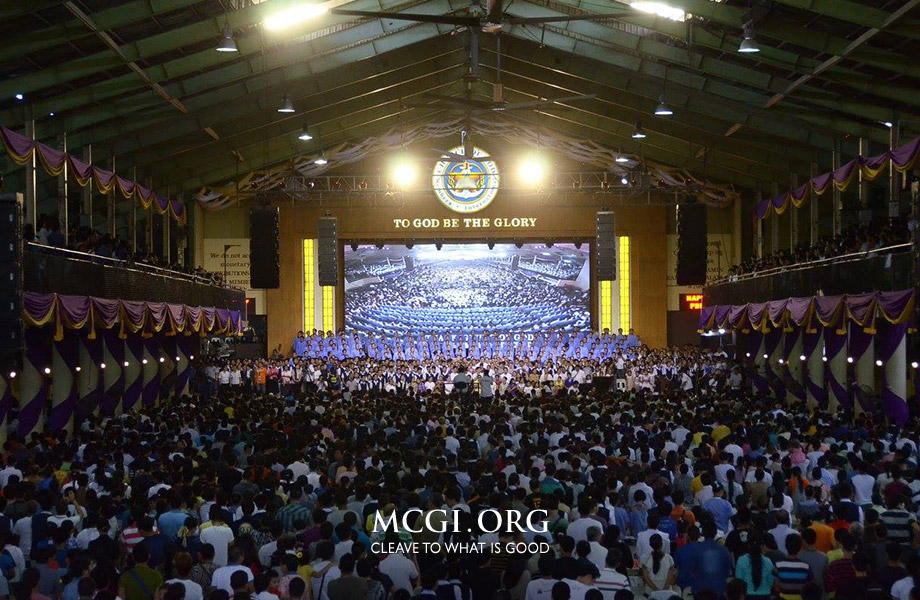 As always, the highlight of the three-day affair is the overflowing wisdom of God preached by Bro Eli and Bro Daniel.
Brethren and visitors attentively listened, many of whom took down notes to the topics regarding the proper clothing that should be worn by brethren who will attend the Thanksgiving gathering, God's plan of mankind's salvation, and the events that will take place during and after the millennial rule of Christ.
Just like the 3rd Quarter TGP last September 30 to October 2, the first two days (December 23-24) of the event started at 5 p.m. (Philippine time) and lasted until 11 p.m. (Philippine time) On the third-day, the program started (December 25) started at 3 p.m. (Philippine time), and ended at 11 p.m. (Philippine time)
Reactions on Twitter
Some brethren expressed their appreciation and overflowing gratitude to God after they have listened to the topics.
Belle Layos, CPA (@just_belleieve) used #MCGISpirituallyBlessed (used on the first day) to express her appreciation of the power of God's wisdom in her tweet:
Listening to the wisdom of God truly gives us hope. ❤#MCGISpirituallyBlessed

— Belle Layos, CPA (@just_bellelieve) December 23, 2016
Joshua Ryan Bonagua (@BonaguaJoshua) gave thanks for knowing that the Almighty Father of the Bible is never a failure using #WorldwideThanksgivingMCGI (used in the second day).
We're very grateful that the GOd that we knew is not a failure
Isaiah 43:13#WorldwideThanksgivingMCGI

— Joshua Ryan Bonagua (@BonaguaJoshua) December 24, 2016
Joyce Raggio (@joyrg_) posted a short video of a group of young MCGI members in Rio de Janeiro, Brazil greeting the entire brethren "Happy PBB (Thanksgiving of God's People)" using #WorldwideThanksgivingMCGI.
Kktk from Rio de Janeiro, Brazil is greeting all the brethren around the globe because it's #WorldwideThanksgivingMCGI @mcgidotorg pic.twitter.com/8tn97c9I0E

— Joyce Raggio (@joyrg_) December 24, 2016
If only Twitter posts can shout, we could have heard Chris Gelo's (@_chrisangelo) tweet screaming at the top of his lungs for the wisdom he had heard from Bro Eli's preaching.
Overwhelming! Awesome! Mystical! WOW! Words to describe all the topics & wisdom that we've learned so far! #UnitedInThanksgivingMCGI

— Chris Gelo (@_chrisangelo) December 25, 2016
The three hashtags used for the MCGI's trending effort on Twitter was well-supported by the brethren. #MCGISpirituallyBlessed reached the No. 1 spot of the Philippines Trends as of 8:33 AM (Philippine time) on December 23. It was also a trending topic on December 24 for 14 hours in Philippines.
Meanwhile, #WorldwideThanksgivingMCGI, reached the No. 1 spot in the Philippines Trends as of 7:04 a.m. (Philippine time) on December 24; and #UnitedInThanksgivingMCGI dominated the Philippine trends as of 8:00 a.m. (Philippine time).
Written by Anthony Chua
Recommended