MCGI ARTICLE
Tweet Bro. Eli, the Bible Will Answer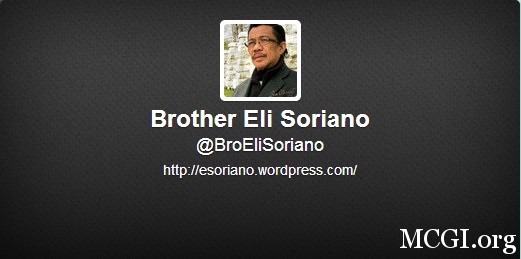 Mashable.com's Most Educational to Follow Bro. Eliseo Soriano can now be "tweeted" for biblical answers to queries of faith and spirituality via Twitter.
People usually ask Bro. Eli personally in his Bible Expositions, which happen twice a week on the average worldwide via the Internet. Now, they simply have to log in to Twitter, follow @BroEliSoriano and type away their questions for the host of the longest running religious program in the Philippines, the Ang Dating Daan or The Old Path, to answer.
He announced the news to the members of the Church of God International who attended the A Song of Praise Music Festival, an international song-writing competition for members, held last December 29, 2009 (PHT) at the ADD Convention Center in Apalit, Pampanga. To date, Bro. Eli has more than 3,800 followers since it opened just two weeks ago.
The MCGI Presiding Minister launched his Twitter account following his Open Web Award win last December 16, 2009 in hopes of reaching out to as many people as possible via the Internet — a move also taken by celebrities like Oprah Winfrey, CEO's like Eric Schmidt, and President Barack Obama.
"You can sing from the heart and from the mind (1 Cor. 14:15)," was one of the first tweets Bro. Eli posted via Twitteriffic, a mobile application that lets Twitter users send and receive tweets straight from their iPhones — another gift of technology that Bro. Eli takes advantage of in spreading the Good News to all.
(Written by: Jay Arellano)