MCGI ARTICLE
With Relaunch, MCGI.org Gears for Growing Mobile-based Users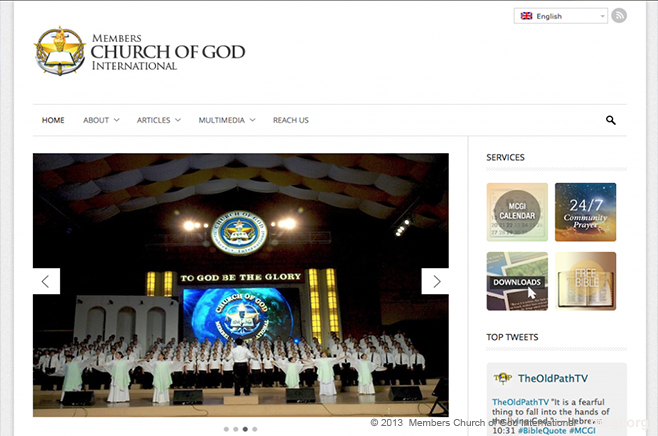 MCGI.org, the official website of the Members Church of God International (MCGI), has metamorphosed into something bigger and better, sporting a responsive web design, more features and content.
Launched in February this year, the redesigned MCGI.org marks another milestone in the propagation efforts of the group to provide users with the tools and content they will need in understanding the Church of God's beliefs, teachings, and answers to questions around faith, religion, spirituality, relationships, parenting, and more of the likes.
Seeing the need to go the extra mile in mobile technology by adopting responsive web design, this means the new MCGI.org will work well in different platforms such as mobile and tablet computer devices.
As well as the award-winning website's content where users get to learn more about the Church of God's general doctrines, gatherings and Church news, the revamped MCGI.org has updated the site with the materials culled from Bro. Eli Soriano and Bro Daniel Razon's social media presences.
One such feature is the "Words of Wisdom," where users may read a collection of sensible and Bible-based quotations from Bro. Eli and Bro. Daniel, the MCGI's Presiding Minister and Vice-Presiding Minister, respectively.
Visitors of the site can watch heart-warming stories of MCGI's new members in the Video Testimonials section, as well as download inspirational desktop wallpapers, and read Bible verses. In addition, there is a Blogs Section that comes in the redesigned site that will initially feature a weekly Thanksgiving and monthly Bible Exposition blogs.
Sharing of content on social networking sites like Facebook, Twitter, and Youtube are now easier with the adition of social networking buttons. Users may also visit the organization's Facebook and Twitter official accounts to receive regular streams of news and events updates posted at the site.
In extending the Church's advocacy of spreading God's words and empowering people to read the Bible, through the site, MCGI provided an outlet for people to request for free Bible. Giving of free Bible is a regular service of Bro. Eli and Bro Daniel since starting the Ang Dating Daan or The Old Path television program as well as Bible Expositions.
MCGI.org was first launched in 2009. Within its first year, the official website of the organization bagged the People's Choice Award when it joined the Philippine Web Awards, an annual web competition showcasing the finest Filipino-made websites.
(Written by Pauline Arellano)